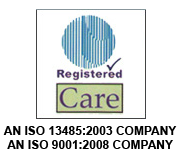 Combination Therapy Machine
The basic principle of electrotherapy Interferential Therapy (IFT) is to utilise the strong physiologicaportable interferential effects of low frequency (<250pps) electrical stimulation of nerves without the associated painful and somewhat unpleasant side effects sometimes associated with low frequency stem.

It has been suggested that IFT works in a 'special way' because it is 'interferential' as opposed to 'normal' frequency. The evidence for this special effect is lacking and it is most likely that IFT is just another means by which peripheral nerves can be stimulated. It is relatively a generic means of stimulation – the machine can be set up to act more like a TENS type device or can be set up to behave more like a muscle stimulator – by adjusting the stimulating (beat) frequency. It is often regarded (by patients) to be more acceptable as it generates less discomfort than some other forms of electrical stimulation.
Interferential Therapy + Tens + USCode: LCS 153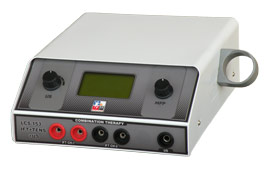 SPECIFICATIONS
Dimension (L*H*D)
390mm, 149mm, 354mm
Weight
6.2 Kg. Approx.
Operating Voltage
140-270V 50Hz
Absorption
50-Watts Max
Fuses
1 Amp
Room Temperature
10° to 40° C
Moisture
10% to 80%
Preset Program
100 Programs
Customize Program
99 Create Programs
Probe Test
Cable & Electrode Test
Max. Output Current
100mA Digital Display for CH-1 & CH-2
Max Output Voltage
100V (Peak to Peak)
Medium Frequency
2 KHz& 4 KHz
Base AMF
0-250 Hz
Spectrum
0-250 Hz
Therapy Mode
4P, 4PV, 2P
Wave shape
TRA, TRI, REC.
Vector Mode
2PL, 4PL, 4PT, 4PNL
Treatment Time
01 to 99 Minutes adjustable
Patient Safety
Available
RUSSIAN CURRENT
Medium Frequency
2.5 KHz
Base AMF
0-200 Hz
Spectrum
0-200 Hz
DIADYNAMIC CURRENT
Current Mode
CP, LP, DF, MF
Low Frequency
50Hz & 100Hz
TENS
Tens Mode
Continuous / Burst
Tens frequency
1 to 250Hz stapes of 1Hz
Tens Burst
1 to 100Hz adjustable
Digital Timer
1 to 99 Minutes adjustable
Max. Output Current
100mA
ULTRASONIC
Ultrasound Frequency
1 MHz
Max. Output in Con. Mode
2 Watts/cm2
Max. Output in Pulse Mode
3 Watts/cm2
Pulse Frequency
1 to 100Hz Adjustable
Duty Cycle
10 to 90% Steps of 10%
Patient Safety
Available
Interferential Therapy +Tens + MS + USCode: LCS 154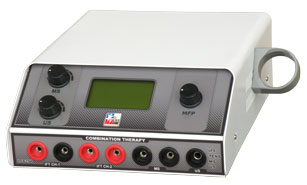 SPECIFICATIONS
Dimension (L*H*D)
390mm, 149mm, 354mm
Weight
6.7 Kg. Approx.
Operating Voltage
140-270V 50Hz
Absorption
50-Watts Max
Fuses
1 Amp
Room Temperature
10° to 40° C
Moisture
10% to 80%
Preset Program
100 Programs
Customize Program
99 Create Programs
Probe Test
Cable & Electrode Test
Max. Output Current
100mA Digital Display for CH-1 & CH-2
Max Output Voltage
100V (Peak to Peak)
Medium Frequency
2 KHz& 4 KHz
Base AMF
0-250 Hz
Spectrum
0-250 Hz
Therapy Mode
4P, 4PV, 2P
Wave shape
TRA, TRI, REC.
Vector Mode
2PL, 4PL, 4PT, 4PNL
Treatment Time
01 to 99 Minutes adjustable
Patient Safety
Available
RUSSIAN CURRENT
Medium Frequency
2.5 KHz
Base AMF
0-200 Hz
Spectrum
0-200 Hz
DIADYNAMIC CURRENT
Current Mode
CP, LP, DF, MF
Low Frequency
50Hz & 100Hz
TENS
Tens Mode
Continuous / Burst
Tens frequency
1 to 250Hz stapes of 1Hz
Tens Burst
1 to 100Hz adjustable
Digital Timer
1 to 99 Minutes adjustable
Max. Output Current
100mA
ULTRASONIC
Ultrasound Frequency
1 MHz
Max. Output in Con. Mode
2 Watts/cm2
Max. Output in Pulse Mode
3 Watts/cm2
Pulse Frequency
1 to 100Hz Adjustable
Duty Cycle
10 to 90% Steps of 10%
Patient Safety
Available
MUSCLE STIMULATOR
GALVANIC
Plane & Interrupted
FARADIC
Plane Faradic & Surge Faradic
Pulse Rate/ frequency
0.5,1,3 Hz
Pulse Type
Rectangular, Triangular
Pulse Duration (Gal)
0.01, 0.03, 0.1,0.3, 1, 3, 10, 30, 100, 300 m.Sec.
Pulse Duration (Far)
50 Hz (0.7 m Sec.)
On time (faradic)
1 to 09 Sec
Off time (faradic)
1 to 09 Sec